News
First Annual Silberman Aging Conference a Success!
More than 80 people from hospitals, community-based organizations, public agencies, and academic settings, came together to learn more about local initiatives focused on dementia care at the First Annual Silberman Aging Conference entitled Innovations in Dementia Care: A Celebration of Practice, Research, and Advocacy in Diverse Urban Settings, held on Friday, May 8, 2015.
Check out photos from the event here:
—————————————————
Featured in The New York Times:
By Daniela J. Lamas, M.D.
Under pressure to reduce costs and improve quality, a handful of health care systems are hospitalizing patients in their homes.
Read more here.
—————————————————
Inaugural Conference on Innovations in Dementia Care: A Celebration of Practice Research and Advocacy in Diverse Urban Setting
The Center of Excellence is launching a community-based conference showcasing innovative local programs in Dementia Care. If you would like to feature your program, please submit a proposal to present at this conference.
Proposals are due by midnight March 24th, 2015.
Click here to learn more. For a copy of the application cover sheet, please click here. 
Please address your questions to Rebekah Glushefski, MSW, Program Manager at rglushef@hunter.cuny.edu
—————————————————
East Harlem: An Age-Friendly Community
New York City was named by the World Health Organization to be one of the first thirty five Age-friendly cities worldwide to address population aging and urbanization. Age-friendly cities were identified and created as an initiative to improve the growing needs of the aging population. Through strategic implementation of improved accessibility to services, the goal of this age-friendly initiative is to enhance the quality of life and independence of older adults aging in cities.
According to the 2013 U.S. Census Bureau, the five boroughs of New York City is home to 8,405,837 people. By 2030, one out of five residents of NYC will be over 60 years of age. In collaboration with the World Health Organization, the New York Academy of Medicine (NYAM) has been making strides by identifying three Aging Improvement Districts in New York City: Upper West Side, Bedford-Stuyvesant and East Harlem.
In 2010, East Harlem was named the first Aging improvement district in New York City. With assistance from Councilwoman Melissa Mark-Viverito, now Speaker of the City Council, an advisory group of community partners, businesses, and older adults was created to examine the needs of aging adults in East Harlem and determine how to address these concerns and improve the neighborhood for older adults. The advisory group's community meetings fostered a deeper connection for residents and solutions such as increased seating at neighborhood businesses, improved laundry access in public housing, improved access to programming for older adults and special hours at the Thomas Jefferson Park Pool were instituted.
The Hartford Silberman Center of Excellence in Aging and Diversity and the Silberman School of Social Work are proud to partner with NYAM, the Office of City Council Speaker Mark-Viverito, and the East Harlem community to continue working on the age-friendly initiative. Through collaboration and parternships with local organizations and business, the Center is working to improve service accessibility and inclusivity for the diverse aging population in East Harlem.
—————————————————
Funding Awarded by Center to Community-Based Pilot Research Projects
November 3, 2014
The Hartford Silberman Center of Excellence in Aging & Diversity is pleased to announce the first recipients of awards from our Research Pilot Grants program, developed with support from the John A Hartford Foundation to promote community-based research that advances psychosocial knowledge in aging and enhances direct and indirect practice with older adults and their families. Selected as part of a competitive process, two academic-community partnerships were awarded one-year grants of $7500 to support innovative, community-engaged research projects that are consistent with the Center's mission and enhance the health and wellbeing of diverse, under-represented older adults and their families:
A Collaboratively Designed Media Based Intervention to Address Memory and Aging Knowledge Gaps Among Latino Older Adults In Urban Poor Communities
PI: Mari Umpierre, PhD, LCSW
Co-PI: Alma Collazo, LCSW
Older Latinos with dementia are an under-identified, under-served and stressed population, expected to grow rapidly over the next several decades. These older adults require health education to increase their knowledge about Alzheimer's Disease and other dementias, and to increase their participation in treatment and research to better address these conditions. The goal of this research pilot is to evaluate and refine a media-based intervention to address memory and aging knowledge gaps among Latino older adults in urban poor communities, and to explore best practices to disseminate, implement, and test the intervention's impact and efficacy. The innovative health education/health literacy intervention "¿Que le pasa a mi memoria?/!What is going on with my memory?" , which includes a 2.5 minute video about memory and aging (in English and Spanish) informed by "entertainment-health education" strategies, has been developed using a CBPR framework and qualitative methods to incorporate health literacy needs and preferred health communication methods of Spanish-speaking/low English-speaking proficiency Latino senior center participants in an urban poor community. The pilot study will be conducted by two Latina social workers (co-Pis) in collaboration with a group of Latino seniors, clinicians, community stakeholders, and Memory Productions.
Case Management for Frail Elderly: A Program Evaluation of a Social Work Model
PI: Manoj Pardasani, PhD,
Co-PI: Judy Willig, LCSW
As the population ages rapidly and life expectancies increase, healthcare and social service providers are challenged to serve older adults along a continuum of care model. While community-based services are most common for healthier and ambulatory older adults, frail and homebound older adults have fewer options. Frequently, the absence of appropriate home-based services forces the frail, older adult into long-term care facilities. Home-based case management is increasingly used in the community and usually focuses primarily on controlling costs by reducing the frequency of hospitalizations and emergency medical interventions, and organizing care to maximize efficiency. This pilot project will collaborate with a Heights & Hills (one of the largest providers of case management services for older adults in Brooklyn, New York), to evaluate the health and well-being outcomes of a social work–focused, home-based case management program, specifically, self-perception of health, quality of life, life satisfaction, isolation, and frequency of hospitalizations and re-hospitalizations. The Heights & Hills case management model is directed by an LMSW, with two LMSW supervisors, an experienced intake worker who triages all new referrals, and 12 BA-level Case Managers. It is hoped that this study will help to demonstrate the impact of social-work led case management programs while highlighting areas of innovation and improvement to the model. The findings of this pilot study will be used to expand the project to include all 23 DFTA-funded case management agencies in New York City, and provide preliminary findings to support a larger NIH-funded intervention study.
The Hartford Silberman Center of Excellence in Aging and Diversity promotes the health and wellbeing of underserved and underrepresented older adults and their families through community-engaged education, research, and advocacy.
—————————————————
EWA Hosts Congressional Briefing on
Geriatrics & Gerontology Education and Interdisciplinary Team Care
October 30, 2014
Washington, DC – Today the Eldercare Workforce Alliance (EWA) held a Congressional breakfast briefing on the importance of funding geriatrics and gerontology training programs for health professionals, including direct-care workers, and providing team care that places the individual and family caregivers at the center of care. The briefing was supported by the Senate Special Committee on Aging. "It Takes A Team! What we will need to meet needs of older adults and their family caregivers" highlighted the need for geriatrics and gerontology education and showcased the opportunities for Congress to ensure the entire health care team is competent to care for older adults. Michèle Saunders, DMD, MS, MPH, past-president of the Gerontological Society of America and co-convener of EWA, moderated the briefing and reminded the audience, that "By 2030, America's 65 and over population will mushroom from 12 percent to 20 percent of the total population. Meaning nearly one in five Americans will be over the age of 65."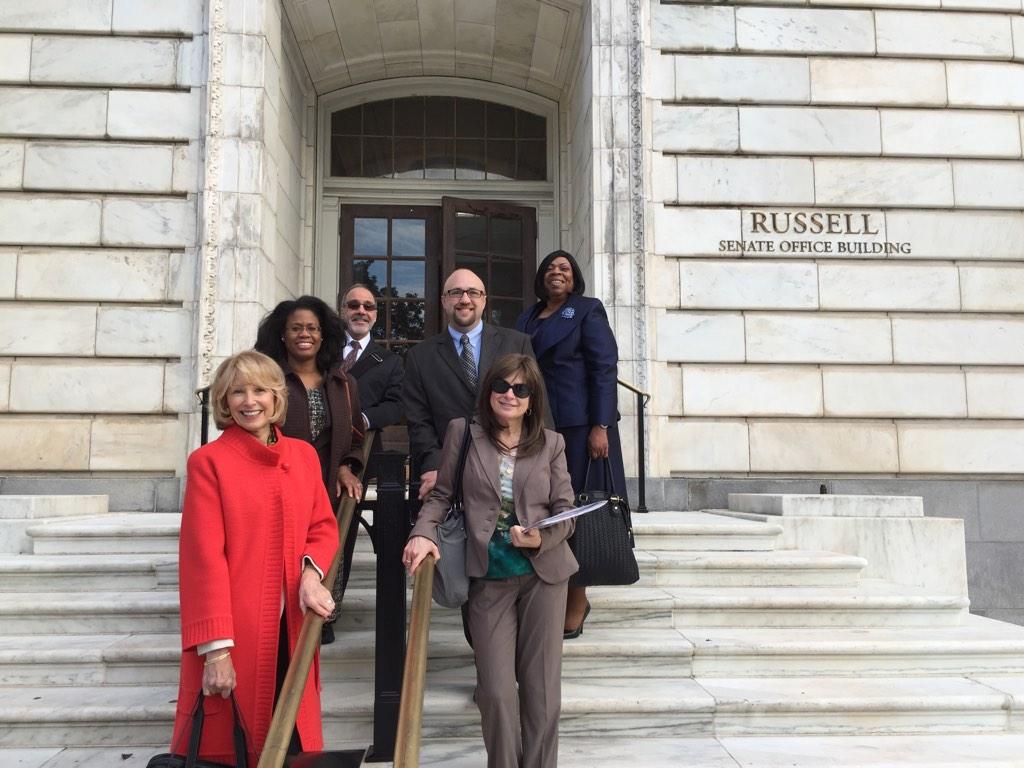 Photo by ElderCare Team
Dr. Lenise A. Cummings-Vaughn, an assistant Professor at Washington University in St. Louis, said, "The overall decline in geriatric fellows is troubling but the number pursuing further training, often important in furthering the foundations and research needed in academic geriatrics, is even lower." Dr. Cummings-Vaughn, a recipient of the Geriatric Academic Career Award went on to say "These are some of the reasons that funding for further career development is needed."  Dr. Tara Cortes, Executive Director of the Hartford Institute for Geriatric Nursing in New York echoed Dr. Cummings-Vaughn's concerns about the lack of geriatrics professionals but said "We must ensure that we not only have specialized practitioners to care for older adults, but also that there is competency across the entire workforce."
Properly trained providers understand the unique needs of older adults, especially those with multiple conditions, and their family caregivers. "Too often health care providers are not specially trained to care for older adults and are likely to miss warning signs and dismiss symptoms as simply "part of getting old" when in reality many issues manifest differently in older adults than in younger individuals," said Dr. Andrew Heck, a licensed clinical psychologist and Clinical Director at Piedmont Geriatric Hospital in Richmond, Virginia.
Stressing the importance of social services and supports, Dr. Carmen Morano, an Associate Professor at Silberman School of Social Work at Hunter College in New York, said "failure to address simple daily tasks, such as meal preparation, shopping, managing finances, and home maintenance will predictability result in a failure to maintain the physical and emotional health of older adults." Arnetta Whittaker, a home health aide, in Washington, DC shared her experience as a direct-care worker providing daily supports and adding "As older adults need additional help to remain in their homes in comfort, safely and with dignity, there will be a greater need for direct-care workers like my colleagues and me."
Karen Marshall, Family Caregiver and Executive Director of the Kadamba Tree Foundation, shared her personal experiences with family caregiving, saying "Agencies want to help and be supportive but don't necessarily have the tools to communicate with each other and families effectively. Anything we can do to make the system more cohesive and interdisciplinary while empowering the family caregiver and individual will be important for the future of eldercare."
###
The Eldercare Workforce Alliance is comprised
of 30 national organizations united in their commitment to address the eldercare workforce shortage in order to ensure that older adults receive quality care in the settings of their choice.
The positions of the Eldercare Workforce Alliance reflect a consensus of 75 percent or more of its members. These statements reflect the consensus of the Alliance and do not necessarily represent the position of individual Alliance member organizations.
The Eldercare Workforce Alliance is a project of The Advocacy Fund
.
—————————————————
Special Issue of Traumatology – Trauma, Aging, and Well-Being: Invoking Human Rights, Intergenerational Family Justice, Peace, and Freedom
Deadline: August 31, 2014 
In response to a large gap in the literature, Traumatology is pleased to announce a call for papers with a forensic and interdisciplinary focus, on the topics of trauma, aging, and well-being, particularly life course and cumulative trauma among older persons from diverse backgrounds and locations. Advancing research, practice, and policy in this area has important prevention, assessment, and intervention implications that will ameliorate human suffering and illuminate the issues pertaining to human rights and social justice. Further, it will advance individual, family, and community rights to safety, dignity, respect and fair treatment, across the life course. Shedding light on these topics is a critical step toward improving society's response to achieving peace, freedom, justice and well-being.
Click here for more information.